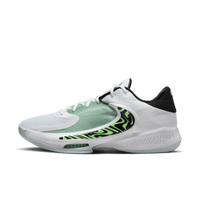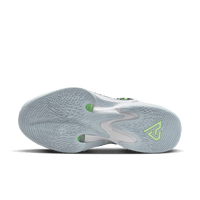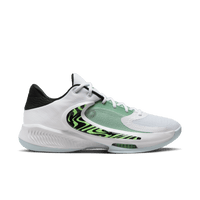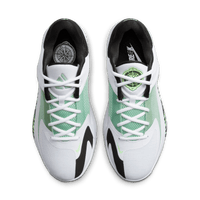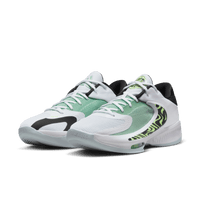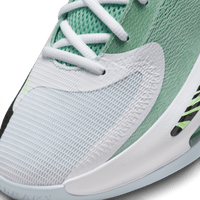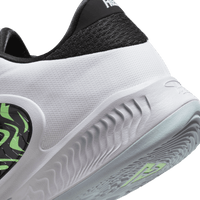 Nike
Zoom Freak 4 'Barely Volt'
Giannis is an incessant storm of stamina and skill that keeps coming at opponents for 4 quarters or more. The forward-thinking design of his latest signature shoe helps propel you down the court in a lightweight fit that moves with you. It can handle quick changes in direction on both sides of the floor, giving you side-to-side stability and multidirectional traction as you Euro step to the hoop.
Drive Downhill
The lightweight midsole is hollowed out under the forefoot, where 2 Zoom Air units are positioned. This allows the Zoom Air units to compress under the weight, then expand and help return energy. Also, they're slightly tilted and primed for your forward motion, like a 100-meter sprinter emerging from the starting blocks, so that you can keep attacking the rim.
Attack the Rim from All Angles
The computer-generated outsole has multidirectional traction in a pattern that resembles a topographical map. It helps optimize ground contact and change-of-direction opportunities.
Stability for Moving Quickly
An external piece of lightweight, durable foam is built into the outer-side midsole. It helps keep your foot stable over the footbed when making quick side-to-side changes.
Cutouts in the foam under the toe and heel help reduce overall weight.
Molded grooves in the rubber outsole allow the shoes to bend and flex.
Molded backwards Swoosh logo is a signature of Giannis' Freak shoes.